Categories
Statistics
Number of ads: 600
Registered users: 189


Partners
Show all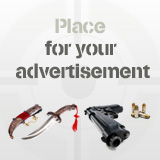 Other
(7 ads)
Ad title
Price
Date added
Locality

Lord Kitchener framed silk picture,some tears to the bottom,not affecting the ver...
To be agreed
22.09.2015
17:50
East Midlands

The history of the RAF. 2 videos box set.
2.2 £
16.05.2013
07:39
East of England

orignal 3rd reich ww2 german army post card 1937 dated lovely item uk sale only p...
15 £
12.05.2013
21:00
East of England
luftwaffe ww2 german air force unit ( parade) photo 38 dated to rear theres write...
29.99 £
12.05.2013
20:52
East of England

hi these are a handwritten account of the second world war starting from the day ...
To be agreed
12.05.2013
19:49
South East England

ww2 german airforce photo orignal uk sale only can post
9.99 £
12.05.2013
05:14
East of England

Complete 13 folders of World Aircraft Information Files. Included are World Milit...
100 £
10.08.2012
13:09
South West England